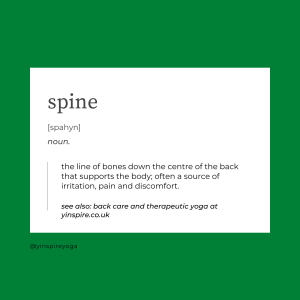 Back pain is probably the most common physical complaint we experience – the UK National Institute of Clinical Excellence suggests 60% of people will have Low Back Pain at some stage in their lives, with up to 28% of people experiencing this in any one month.1
Yoga can help a lot when you are working with back pain, alongside your Doctor, and other specialists like Osteopaths, Sports Therapists and Physiotherapists.  However what Yoga approach is best, and when, is important.
If your back is in a flare up situation, then quite often the most important thing you can do is relax to allow the Nervous System to cope with pain.  Restorative Yoga can help with this, using a lot of props and support for the very gentlest Yoga poses; Yoga breathing practices, known as Pranayama, can also help to settle our Nervous System.
Outside of the flare ups, a mixture of strengthening and release will help build resilience in your spine long term, and Yoga is well placed to provide this.  However, it needs to be both an incremental practice, and a practice of perseverance – some people with back pain suggest they need to attend to their spines regularly to avoid flare ups.
It's important to build strategies to look after our spines on the good days and the less good days, and to learn to take care of ourselves and cultivate resilience.
My classes at Yinspire are all back friendly, and I can adjust the Yoga practices we use to protect your back if it is irritated.
The modern approach to back pain is to consider a BioPsychoSocial basis – looking at things from a Biological, Psychological and Social perspective.2  This is something I specialise in as a Yoga Therapist, and I can work one on one with people to address these issues.
You can learn more about my Yoga Classes at www.yinspire.co.uk, where you can book a class and find out more about my studio between Brading and Ryde, Isle of Wight. 
I've written a lot more about Back Care and the Biopsychosocial approach on my Yoga Therapy section of my website, https://www.yinspire.co.uk/yoga-therapy/
One final thing – if you have sharp onset pain with no obvious cause, or are in any way concerned about your health, please speak to your Doctor or NHS 111.
---
(1) Low Back Pain – How Common Is It? https://cks.nice.org.uk/topics/back-pain-low-without-radiculopathy/background-information/prevalence/
(2) The need for a new medical model: a challenge for biomedicine
https://pubmed.ncbi.nlm.nih.gov/847460