About Yinspire – All You Need to Know

Studio Location and Information

Yinspire has a dedicated studio at Rowborough just outside Brading, Isle of Wight

The studio is only open when classes are on – please do not call or visit without appointment.
The former Brading Town Centre studio has now closed permanently.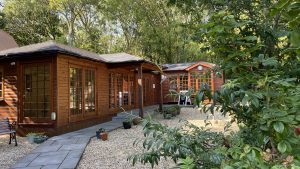 The Rowborough facility is a purpose converted studio in a peaceful rural setting, overlooking woodland and lawn in the grounds of a private house.  During Social Distancing the studio has a capacity of 12, making it safe for everyone.
For Full Details, Including Map and Parking, see Yinspire Rowborough

About Jessica & Yinspire
Learn more about Jessica, owner of Yinspire, and Yinspire History.
Latest News, Writing and Musings
There are many definitions and interpretations of Yoga, and many different styles of Yoga.
Here Are My Thoughts on Yoga and Yin Yoga
Common Questions
If you have questions about Yoga or classes at Yinspire, then my Common Questions page may well have the answer.