Welcome to Yinspire
The home of Yin Yoga and Therapeutic Yoga on the Isle of Wight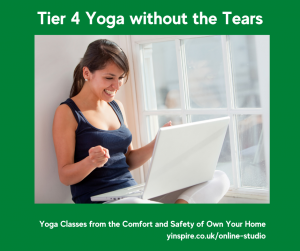 My Yoga Studio is on the beautiful Isle of Wight at Rowborough between Ryde and Brading and hosts both Yin Inspired and Restorative Yoga with myself and my Yoga Therapy Practice.  
The studio also hosts Guest Teachers in a range of yoga styles and in related well-being disciplines. 
Due to the Isle of Wight Coronavirus Restrictions, at present group classes cannot run in the studios; the online timetable will run as usual.  1 on 1 Yoga Therapy can continue in person.  Updated 6 January 2021. 
Read about Practising Safely During Coronavirus

Yin Yoga with Jessica

Yin Yoga has been my passion over recent years  Yin Yoga is a quieter practice,  mostly floor based, less focused on exertion, and more focused on working with our lives, minds and bodies as we find them each day – maybe stress, anxiety, disappointments, aches, pains, bad backs, tummies.  My interpretation of Yin Yoga is a warm hearted approach, less about doing, more about softly being. without strife.  My classes major on Yin Yoga, but weave in some classic Hatha Yoga, Restorative Yoga, Pranayama, Mindfulness Meditation and elements of Yoga Therapy.
Much of our lives are Yang – active, energetic, doing, outward.  Yin Yoga helps us balance this with the Yin aspects of life – stable, passive, nurturing, inward, restorative.  
Yoga Therapy
I am also a Yoga Therapist (Yoga Therapy for Mental Health, Minded Institute, London)
I offer Private Yoga Therapy Classes and Back Care Classes, specialising in Stress, Anxiety and Confidence; Back Complaints; Rehabilitation and Adaptation; Digestive Health
Starting Yoga
Nervous or unsure about starting Yoga?  Beginners to Yoga are most welcome at Yinspire classes, we all started new once
Book a Class or Get in Touch with Questions

"Yoga has been a constant in my life over recent years, and something of immeasurable benefit to me; its my privilege to share this with others, and I hope you can join me." – Jessica Garbett

"Unhurried postures unstained by striving" – Sarah Powers, writing about Yin Yoga
"In yoga the edge is the place of challenge and change. It may be high; it may be scary; but it is necessary. There are many kinds of edges: there is the physical edge, beyond which injury awaits; there is the emotional edge, beyond which tears and laughter blossom; there is the psychological edge, beyond which psychosis may erupt; there is the spiritual edge, beyond which freedom is found. How and when to play these edges is worth investigating." – Bernie Clark – YinYoga.com