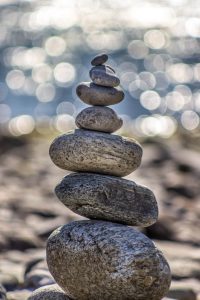 A four week course in January 2023 introducing Yin Yoga and Restorative Yoga
Choose from either:
Thursday evenings 6:30pm to 7:45 – 5th, 12th, 19th and 26th January; or
Friday mornings 10am to 11:!5 – 6th, 13th, 20th and 27th January 2023
Venue – Rowborough Manor, Beaper Shute, Brading, PO36 0AZ
Course fee – £45 if booked before 31 December 2022 – rising to £50 afterwards
Tutor – Jessica Garbett – Yoga Teacher and Yoga Therapist
Description – A four week course introducing Yin Yoga and Restorative Yoga.  Both of these approaches to Yoga are slower and quieter, with simpler postures, which we hold for a slightly longer time with the aid of support from bolsters, blocks and blankets. Yin Yoga works on so called Yin energies in the body – slower, inward, nurturing energy.  Restorative Yoga aims to calm and balance our nervous system.  Alongside the Yoga postures will be some breathing practices, and some simple meditation practices, combining to form a rounded Yoga practice.
The course is suitable for beginners with no yoga experience, returners to yoga, or those with experience in more dynamic yoga styles looking to try this quieter approach.  Most injuries and health conditions can be catered for so long as you can sit on the floor and get back up to standing unassisted.
This slower quieter style of Yoga is useful for anyone with a busy life, or feeling the effects of stress and related conditions.
To book and pay for this course, follow this link
Photo by Deniz Altindas on Unsplash