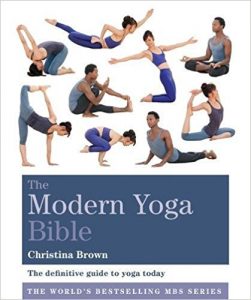 The Godsfield Bible series is well known, and indeed "The Yoga Bible", by the same author, has been a popular yoga guide for over a decade. This latest publication came out earlier this year, and takes a more modern approach to yoga, as the name implies.
So what is "Modern Yoga"? In this context it seems to be an approach to yoga, especially asana (postures), which builds on, but isn't confined to, the classical approach of Hatha Yoga, and derivative traditions such as Iyengar, Ashtanga, Sivananda, et al, and thus the book covers a number of experiential approaches to asana, both flow and individual. It's probably a matter of personal choice whether this modern approach suits you – if you are a traditionalist it may not, in which case the authors original work may be better suited, yet if you feel the essence of yoga asana can be removed from strict confines and adapted to other movements and postures outside of the canon of classic yoga traditions, then this book may be food for thought.
The approach comes across as experimental – what feels appropriate for you – rather than directive, and for me thats no bad thing.
As well as dynamic and static yoga asana, there are sections on Restorative Yoga, Yin Yoga, breathing (pranayama), meditation, and aspects of yoga philosophy, mainly from the Yoga Sutras, sprinkled throughout. The Yin Yoga section isn't as comprehensive as it could be, but that's to be expected, in so far as the book cannot go into rich detail on one line of practice, and neither does it claim to as a general reference work. This isn't a limitation, just an observation.
In all I found this a useful book. For a teacher it's a useful resource and dip into inspiration source, for a student a good basic introduction to compliment class work and develop home practice.
The book can be purchased from Amazon, and if you use this link Yinspire earns a small commission