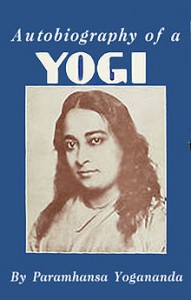 One of the staple texts of classic yoga, this book has been my bath time kindle reading over last month.
Born in 1893 to an Indian family the book charts Yogananda's path of spiritual discovery through Yoga as a boy, teen and young man, and then how it obeyed his Guru's call and took the message of Yoga to America and Europe – not the first yogi to visit those shores, but one of the earliest exponents.
A lot of the book is taken up with his early life – various teachers and studies, the rebellion of youth over academic study versus spiritual study, finding his Guru and learning – literally at his feet.
The recollections in this book are a mile away from our modern postural based Hatha Yoga, but share that common route of focus, devotion and perseverance in pursuit of something higher in our lives.
A very human side to Yogananda comes across in the book: sometimes doubting, sometimes rebelling, always learning. One thing I particularly enjoyed was the weaving of both Hindi and Christian influences into the writing.
A recommended book for those looking to understand a bit more about the wider influences of yoga.
It can be purchased on Amazon, and if you use this link, Yinspire earns a small commission.