About Jessica and Yinspire

About Yinspire
Yinspire started as the trading name for my classes classes back in 2015 – since then Yinspire has grown to host my Group Classes, and my Yoga Therapy Practice.
About Jessica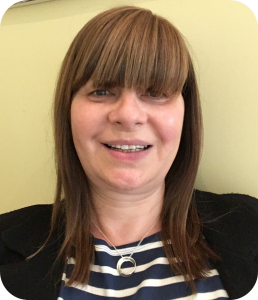 I started exploring Yoga in my mid 40s – it had been on my "to do" list for many years but never quite happened.  One day I saw an advert for "Yoga and Brunch" and thought that sounded a civilised way to brighten up a dull January Saturday morning.  
From that very first class I was captivated with Yoga, before long attending several classes a week, along with additional workshops, the first steps toward a home practice, and starting to devour Yoga books.
Away from Yoga my background is Accounting and Tax, which I still practice, including Accounting for Yoga Teachers.
When not at work I enjoy fresh air – whether walking or cycling on land, or at sea on our family motor yacht – and also having my nose in a good book with a Gin & Tonic.
Although I would describe myself as Liberal Christian, I have a strong interest in eastern spiritual ethics and practice, and this illuminates aspects of my practice and teaching.
Styles
Most of the regular teachers I have worked with come from a Hatha or Vinyasa style of Yoga, and these have been the foundations of my own practice.
My Yoga Teacher Training Tutor came from a Satyananda lineage and agin this has influenced my own practice, although I don't follow that particular lineage.
In 2012, recovering from injury, I discovered by myself a slower quieter side to Yoga, which I later came to understand as Yin Yoga.
All these influences come together in my practice and teaching, which I refer to as Yin Inspired Yoga.
A lot of my time has been spent studying experiential and functional anatomy, and the physiology of stress, which led to a formal training in Yoga Therapy with Minded Institute London, and introduced a distinct therapeutic aspect to my classes.
My Yin Inspired Yoga style, also known as Yoga for Well-being, is an adaptation of a classic Paul Grilley/Sarah Powers Yin Yoga practice, however I also include, as appropriate:
Classic Hatha Yoga postures, maybe some static, maybe very slow flow
Restorative Yoga postures
Pranayama (breath and subtle energy work)
Mindfulness and Meditation
Elements of Yoga Therapy
In all this the emphasis remains on a slow floor based practice though.
Amidst all the seriousness, I also think Yoga should be fun and relaxed, and approached with humour – you should leave the class feeling better than when you arrived.
Learn more about Yoga and Yin Yoga – Thoughts by Jessica

Equality and LGBT

Yinspire is an LGBT friendly business, committed to promoting equality and inclusiveness across all gender, race and sexuality identities.

Professional Memberships
Main Trainings
2013-2014 FRYOG foundation course 100 hours
2014-2015 FRYOG practical teaching course 200 hours
2014 Foundations of Yin Yoga – one week – tutor Norman Blair
2015 – 2016 Structural, Functional and Experiential Anatomy for Yoga – 100 hours – with Gary Carter
2016 Advanced Yin Yoga Teacher Training – 60 hours – tutor Norman Blair
2017 – 2019 Yoga Therapy Training – 550 hours – Minded Institute London

Main CPDs and other training
2013 Yin Yang Yoga workshops – one weekend – tutor Simon Low
2014 Common Injuries Upper and Lower Body – one day cadaver prosection
2014 Yin Yoga workshops – one weekend  – with Paul Grilley
2016 Anatomy of pelvis, spine and back pain – half day cadaver prosection
2016 Anatomy of spinal cord and nervous system – half day cadaver prosection
2016 Five day guided cadaver dissection – with Julian Baker
2016 Insight Yoga + Psychological Inquiry workshops – one weekend – with Sarah Powers
2017 Insight Yoga Teacher Training Intensive: Mindfulness + Inner Practices in Yin Yoga – five days with Sarah Powers
2017 Yoga Therapy for Low Back Pain & Sciatica – three days with Robin Monro / Minded Institute 
2018 Yin Yoga and Meridians – Kidney/Bladder and Stomach/Spleen Meridians – 2 day training with Norman Blair and Kate Henley
2018 Yin Yoga and Meridians – Liver Meridian – 2 day training with Norman Blair and Kate Henley
2018 Three Day First Aid at Work with IWNHS Ambulance Training
2019 Mental Health First Aid – two day training with IW Council
2019 Breath Body Mind – Workshop for Professionals – two days Drs Brown MD and Gerbarg MD via Minded Institute
2019 Body Reading and Resilience – three days with Thomas Myers
2019 Yoga Therapy and Chronic Pain Symposium – one day – via Minded Institute
2020 Yoga Therapy CPD via Minded Institute – Psychotherapeutic enquiry skills; Renal conditions; Borderline Personality Disorders; Stroke and Traumatic Brain Injury; Dermatological conditions; Obesity; Hyper-mobility – 4 days
2020 Rewiring the Brain Through Yoga: Neurological Insights into How to Use Yoga to Promote Neuroplasticity – one day
2020 Sanskrit for Yogis: an Interactive Introduction – 14 hours – Graham Burns
2020 A Comprehensive History of Yoga: Research and Scholarship – 20 hours – Yoga Campus
2020 Total Yoga Nidra Foundation – 15 hours – Yoga Nidra Network
2021 Yoga Meets Science – Yoga Campus
2021 First Aid at Work with IWNHS Ambulance Training
2022 Managing Back and Hip Injuries – 6 hours – Yoga Campus
2022 Sleep Recovery – 6 hours – Yoga Campus
2022 Fascial Anatomy Refresher – 12 hours – Gary Carter
2023 Safeguarding – 3 hours – Minded Institute