Coronavirus – Staying Safe in the Studio
Welcome Back – The studio is now open again after the Coronavirus disruption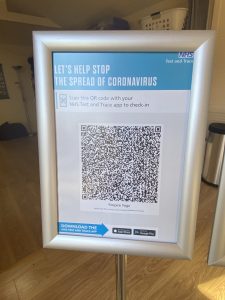 Here is what you need to know to practice yoga safely
Please wear a mask in reception, and when you are not on your mat.
Two people only in reception at the start or end of the class – if there are others in there, please wait.
On arrival in the studio please wash your hands or sanitise as the first thing you do.
Please bring your own equipment if possible.  Your teacher will let you know what's needed; for Jessica's classes, a mat, block and bolster.  A limited amount of studio equipment is available, which is sanitised after use.
To help with Social Distancing in the studio – please place your mat centrally on a numbered space, facing the long back wall of the studio
If you use the toilet, please wipe down door handle, taps, toilet handle and seat afterwards.
Due to increased ventilation in the studio, it may be chillier – bring a blanket and layers.
If you have the NHS Track and Trace App, please scan in, but please turn your phone off afterwards to avoid generating false proximity warnings in the shoe and bag cubbyholes
And finally, if you have Coronavirus symptoms, or feel unwell, stay home…   …but you knew that!
Welcome back, enjoy your classes.
Sanitisation and Ventilation
Here are some of the things we have done to make the studio safe:
Air filters with Hepa and UV.
Forced air ventilation for when windows cannot be open.
30 day anti-viral and anti-bacterial surface protection.
Enhanced cleaning.
Social Distancing
The studio has been measured to have a capacity of 10 plus teacher with 2m+ social distancing, allowing for a little over 2m as a minimum person to person – minimum 2.2m, more in many directions.  In addition the mats are laid out so that all clients are facing the same way and not breathing onto each other.
This assumes people stay on their mats, and move on a synchronised basis, eg everyone sits at centre of mat, everyone moves to laying, everyone comes to standing at front of mat. 
The 2m doesn't apply head to neighbours' feet when laying, but you don't breathe through your feet!
The Rule of Six introduced from 14 September 2020 does not apply to classes, nor do the enhanced restrictions on meeting indoors introduced from 24 September – but please be mindful about socialising with others before and after class.
Studio Equipment
Please bring your own equipment where possible.
If you are using studio equipment:
please sanitise mats and blocks after use – sanitisation equipment is provided.
lease place a pillowcase (provided) over bolsters, and put the pillowcase in the laundry bin at class end.
please place any used straps in laundry bin.
blankets and mat toppers are not available at present, sorry.
Mat Layout
Please observe the numbered spaces, to ensure Social Distancing and best use of space.
In small classes, your teacher may change the layout.  Please follow their guidance.
mats

Concerns
If you have any concerns, or experience Coronavirus symptoms after class, please contact Jessica Garbett – jessica@yinspire.co.uk