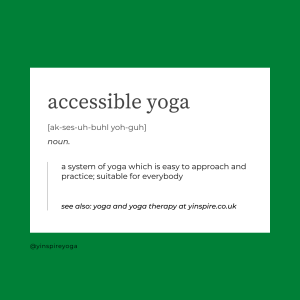 A frequent comment I get with enquiries is "I'm not really a Yoga person".
I would admit there is a stereotype, often fed by the media, of a typical yogi.
But, honestly, it's far from the truth.
So, as a Yoga Therapist, Yoga Teacher, and a Yoga Practitioner, I can honestly say Yoga is, or can be, for everyone.
You don't need to buy special fashion, give up wine and carbs, wear sandals, or grow a hipster beard – although any of those are, of course, permissible! 
Equally you don't need to be especially bendy, have a particular body shape, gender, colour, or creed.  
You don't even need to be fit and well – Yoga Therapy helps you toward this and is suitable for most conditions and injuries.
Really the only thing you need to start with Yoga is an open mind and some time. 
Some of the techniques and concepts we use in Yoga may be new to you, but its fine, you don't need to learn a lot – one of the important things for me as a Yoga Therapist is to keep my work with you very simple and straightforward.  And its why we call Yoga a "practice" – because you keep practising!
We live in an age of the quick fix, and Yoga Therapy is in many ways the antithesis of this – a slower and, arguably, more sustainable approach to wellbeing.
A private Yoga Therapy session is a good way to see if Yoga can be for you, as you get the private attention of a skilled Yoga Therapist, and the worries of a room of strangers is taken away.
If you have an inkling the health benefits of yoga may help you, but you don't know where to start, this could be the way in?
You can learn more about my practice as a Yoga Therapist, and book appointments, at www.yinspire.co.uk/yoga-therapy
Jessica – Minded Yoga Therapist