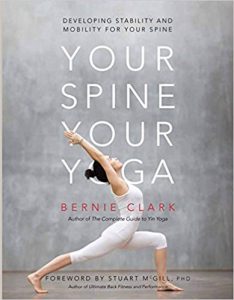 This is the third volume in the author's five part work on variance in Yoga practice – two years ago I reviewed volumes one and two, and volumes four and five are still to be published.
As with volumes one and two, looking at functional anatomy and the lower limbs respectively (and I returned to this work when I was having knee surgery), this third volume is through and comprehensive, looking at your spine, variance, pathologies and how affect a yoga practice. We journey through the axial skeleton from Coccyx through Sacrum, Lumbar, Thoracic and to the Cervical spine, taking in the Rib Cage as well – the thoroughness of the work means its not an easy read, and probably best approached as an overview and dip in more deeply to the aspects that interest you further.
Highlights for me included the authors review of so called four key "core on the floor" postures for spinal health on a "low risk/high reward" basis – we'll all have our favourites in this area, of course, but its good to see these thoughts being brought together – mini curl up, side plank, push up/plank on elbows and balancing cat (how many different names exist for one posture!), along with the side section on vital capacity in our lungs and how we maintain it with age.
As I say, this is a detailed book and its really for Yoga Teachers, other movement professionals, and advanced practitioners – if you are looking for an introductory work on spine health then this will probably bog your down. For the teacher or experienced practitioner that are a myriad of useful gems in there to move forward your own understanding and practice, both personally and for teaching.
Your Spine Your Yoga can be purchased on Amazon, and if you use this link, Yinspire earns a small commission