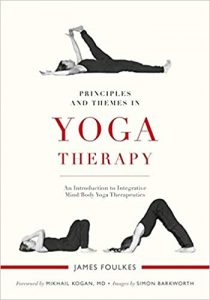 Subtitled Principles and Themes in Yoga Therapy: An Introduction to Integrative Mind/Body Yoga Therapeutics this isn't a how to manual about Yoga Therapy – not for Yoga Teachers / Therapists, not for Yoga Practitioners.   Instead its a reflection on the themes and principles – authors words – that he has found important in his own professional practice.
For those of us who work therapeutically this reflective work from others is useful in both expanding our horizons, and in provoking reflection on our own practice and approaches.  However in a world of complexities, beyond the red lines of ethics and safety, there are little in the way of absolutes in how we approach our work as every client / therapist encounter is so different.
The writing is interspersed with practices and case studies, along with reflective imaging, which breaks up the text and helps that reflective process.
So, very much not a "how to" manual, but none the less a useful reflective work for Yoga Teachers, Yoga Therapists, and competent practitioners.
You can buy Principles and Themes in Yoga Therapy: An Introduction to Integrative Mind/Body Yoga Therapeutics on Amazon, and if you use this link, Yinspire earns a small commission