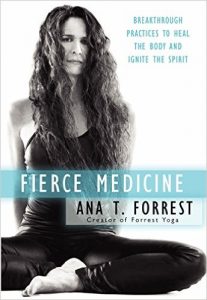 Part autobiographical, part practice manual, this is a book about radical self healing.
It's not an easy read, arguably in some places controversial, and maybe for some triggery, very raw in places, the author weaves the story of her life through the practices she has learned for self healing.
The author is the founder of Forrest Yoga, and the practices combine visualisation, mediation, breathing and asana focused on coming to terms with past trauma, and harnessing negative emotions for acceptance and healing.
The author also bring in her experience of Native American Medicine, which means this book has a very different feel to many yoga manuals. Certainly you won't find rainbows and unicorns abounding, that's for sure.
Did I like the book? I'm not sure it's a book to be liked, or described in those terms. Would I recommend it? Yes, for people with unresolved traumas and heartache, for the broken spirited. No, for the student who is curious about yoga practice generally.
It can be purchased on Amazon, and if you use this link, Yinspire earns a small commission.