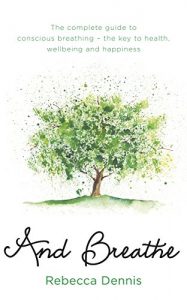 Come back to the breath…. how many times have you heard that in a yoga class?
The breath is so vitally important in our health and wellbeing that I make no apology for another book in the topic.
This is a refreshingly simple and straight forward read with an easy 200 pages or so, and none the worse for that – sometimes it feels like we can over complicate for the sake of it.
The author writes about her experiences with the breath, that in turn led to her becoming a breath worker.
"When I first came across breathwork, I couldn't understand why everyone wasn't doing it. In my opinion, it is the most powerful, accessible and transformative tool we have."
She goes on to cover benefits of breath work; getting started; a smattering of science; breath work for particular times in life and situations. Throughout the book are numerous practical exercises which build on each other, case studies and wisdom from others.
This is a very practical book, and ideal for anyone who has been intrigued by the breath in a yoga class but wants to go deeper. It would be a useful inspiration and refresher for yoga teachers and others as well, but it's not a technical manual, nor does it claim to be.
A book I'd recommend. It can be bought on Amazon, and if you use this link Yinspire earns a small commission.