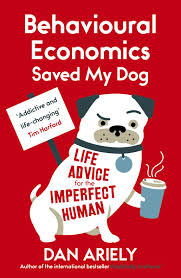 So I admit I knew very little about the author or the book when I started reading; I saw it on Waterloo Station and through it worth a go, maybe as slightly lighter holiday reading.
The author is a columnist on the Wall Street Journal writing a column about life problems which is both off the wall and eminently practical, with a dose of humour thrown in. His background is that of being a Professor of Psychology and Behavioural Economics, and apparently he is the founder of the Centre for Advanced Hindsight. So his column is really Agony Uncle meets Behavioural Economist.
The book itself is a collection of his columns, about a hundred of them, dedicated to "The oddities, complexities and beauty of human nature".
We cover such topics as "variety as money enhancement", "outsmarting toilet goers", "gossip as a social coordination mechanism".
It's light, maybe irreverent, sometimes frothy. The off the wall cartoon illustrations help as well. Yet underneath the topics addressed leave you asking about the predictability of human experience, about habit, about unexamined patterns in life. Loosely the things that we consider sometimes as yogis, albeit a different angle. The unexamined life, etc.
For example, in a section called "the art and joy of saying no" the author responds to a question from a reader about priorities in work life, responding to outside requests and invitations and inevitable busy-ness. In reply he identifies a tendency for us to accept things ahead as our schedule looks clear, yet nearer the time to find ourselves time pressured and regretting saying yes. Recognise that? I do.
His suggestion is not to look at blank space in your future diary as free, just committed time where the details haven't been filled in – you will probably be as busy then as you are today. The author has three suggestions to help when you are requested to accept a commitment in the future:
– respond to a future request as if it was immediate, '"every time a request comes in, ask what you would do if it was for next week".
– consider your emotional reaction if the request came in for tomorrow and your diary was locked and you couldn't attend – sadness or relief?
– finally, if this request was already in your schedule for tomorrow and was cancelled, how would you feel? Sad? Or happy ("cancel-elation")?
Those are your answers. As I say, a bit off the wall, a bit matter of fact, but worth thinking about as tools.
This book is in no way a difficult read, but amongst it's lightness does gently prompt a few questions; for me, it was worth it for that.
The book can be purchased on Amazon, and if you use this link, Yinspire earns a small commission.