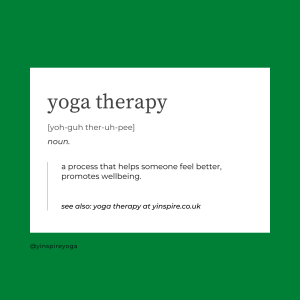 People often ask "What is the difference between a Yoga Teacher and a Yoga Therapist?"
A Yoga Therapist is a specialist in tailoring Yoga to your individual needs to help address health concerns or improve your wellbeing.  To support this a Yoga Therapist will generally have a broader and more comprehensive training compared to a Yoga Teacher.
I sometimes liken my work as a Yoga Therapist as having a foot in the Yoga world and a foot in the Medical world.  The Yoga techniques I offer are supported by both evidenced based practice, a broad understanding of our human physiology, and an understanding of common medical concerns.  Obviously, I am not a doctor – although some of my Yoga Therapist colleagues are doctors or other medical professionals – and if you require urgent or emergency care then you must contact your GP, NHS 111, or Emergency Services.
Another difference between Yoga Teachers and Yoga Therapists is that Yoga Therapists work to a very specific and robust set of ethical guidelines.  Some Yoga Therapists in the UK will be registered with the International Association of Yoga Therapists (IAYT), others with the Complementary and Natural Healthcare Council (CNHC), a UK "accredited register".  I am registered with CNHC.  The British Council for Yoga Therapy (BCYT) set best standards for Yoga Therapy in the UK.
Of course, these divisions are not set in stone – many Yoga Teachers also work therapeutically with clients, so there is a continuum, and likewise I teach more generalised aspects of Yoga as well.
You can learn more about my practice as a Yoga Therapist, and book appointments, at www.yinspire.co.uk/yoga-therapy
Jessica – Minded Yoga Therapist