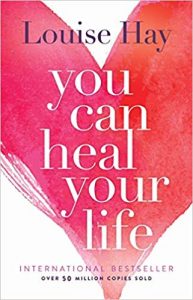 Written in 1984, this book is something of a classic in mind body healing, even though for me it was one I hadn't read – too many books, too little time!
Louise Hay is, or was as she died a year or so ago, a prolific writer in this area, and indeed founder of an eponymous publishing house.
In this book she expounds her own philosophies on mind body healing, essentially based around physical and mental health issues coming back to negative thought patterns.
I have mixed feelings about this. Personally I prefer writing more rooted in science, which is notably lacking in this writing, in places embarrassingly so. However I'm the first to admit that science only goes so far, and there is much we can learn from stepping outside of the narrow confines of science and scientific evidence, instead relying on genuine empirical evidence from others and our own instinct – in all its a fine balance.
The writing style is perhaps a little Americanised and a bit frothy in places, but it's readable enough, and interspersed with affirmations and exercises.
In honesty I didn't gel with this book, but you might. I'd just say to be aware that it isn't mainstream healing science, and not a substitute for proper professional support on health issues.
You can purchase the book on Amazon, and using this link earns Yinspire a small referral fee
https://amzn.to/2PsofJT