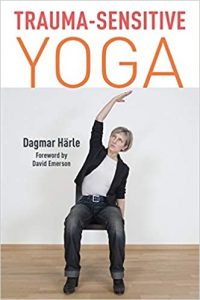 Trauma is something of an undercurrent in our modern world – only recognised comparatively recently as a separate condition, its something you don't think about, or use the term flippantly, until it impacts you or those close to you.
For those of us working in Well-being or Helping worlds, it is something thats we are aware of and, more importantly, that we see underpinning a lot of the issues manifesting in our clinics, classes or studios.
This is a useful work on adapting yoga for trauma; it is through without getting bogged down, and takes a systematic approach in looking at Western and Eastern understandings, before considering how they can support each other.  To be clear then, this book is rooted in an integrative approach – Yoga and other mind body work supporting the work of other Mental Health Professionals.
I felt this book offers a comprehensive and grounded approach to the topic.  It is perhaps best suited to Mental Health Professionals seeking to bring Mind Body work such as Yoga into professional practice, and to Mind Body practitioners – including Yoga Teachers – seeking trauma sensitive skills.  Although not a self help book,  however it could also be useful to an individual struggling with trauma who is seeking their own solutions.
You can buy Trauma-Sensitive Yoga on Amazon, and if you use this link, Yinspire earns a small commission