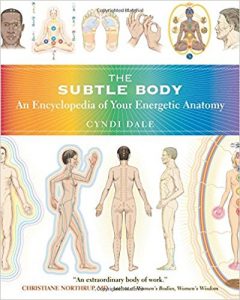 The subtitle to this work is "An Encyclopaedia of Your Energetic Anatomy", and at 400 pages its a substantial work.
The first part is a review of the concept of Energy, before a second part of the book looking Human Anatomy from a physical perspective – mostly a classical anatomical interpretation, but interspersed with some energetic side pieces. The book then moves more subtly through Energy Fields; Energy Channels; Chakras and the Energy Body and Energy Practices.
There are a wide range of sources and traditions covered – from Indian through to Jewish, and touching it seemed to me on most major systems. The book isn't short on detail, and its both well written and accessible in content.
In truth, with a scientific approach in my brain, at times I felt the content to be a little too nebulous – thats no criticism of the author or her writing, and very much a reflection of where I am now (quite happily I may add) – and its fine – its a big world.
For anyone interested in Energy and the Subtle Body and all the many variations and dimensions, this is a fascinating book, and all knowledge has its value.
The Subtle Body by Cyndi Dale can be bought on Amazon, and if you use this link, Yinspire earns a small commission