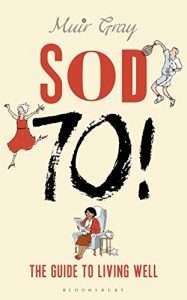 Although age is inevitable, ageing, or the effects of age, are less so. Sure we all slow, and even at the comparatively tender age of 51 – the author says the readership of this book will mostly be 70s – I feel a transition. However whilst we can adapt to age, more than ever we have the support and knowledge to do so whilst retaining reasonable fitness and wellbeing.
This book is a practical and non technical manual on post 70s health, but relevant to any one past the first flush of youth. It's not a complex or difficult read, and in a nod to the audience has welcome large print 🙂
If I had one criticism, the book is perhaps a little classical at times in its outlook in health and well-being. Not wrong, but maybe not as up to date in places as it could be, for example in some of the thoughts about diet and fats – however this is a changing field, and tried and tested goes a long way.
A useful read for anyone finding themselves slowing down mid life onwards.