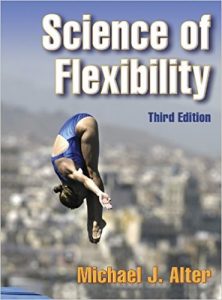 Its been on my shelf for a wee while, but eventually I got to reading this.
First thing to say, as the name suggests, it is science based – so for anyone wanting a light read, this isn't the book. Second thing to say, third edition, 2014, in places felt to be a little out of date and a few omissions – no reference to latest thoughts around Dynamic Ligaments (Dynaments) for example, and perhaps more surprisingly the Psoas, seemingly muscle du jour, although probably overrated, isn't touched on, along with other deep structures ; you could look at these omissions two ways – a refusal to be drawn in to faddiness or not being complete / up-to-date – neither answer is right.
What we do get is a through grounding in the science of flexibility along with practical thoughts on a functional and discipline basis. The theory side looks at anatomical constituents of flexibility – muscle, connective tissue, neuroscience, along with social and psychological aspects, and goes into considerable detail – even for an anatomy geek like myself, this felt a bit much at times, and keeping attention was difficult. The functional and discipline aspects looks at the flexibility needs of various sports/disciplines before looking at basic stretching techniques for each muscle group.
So, most definitely not a book for the beginner or casual reader. For a bodyworker, yoga teacher, or serious athlete a useful read, but one that needs taking slowly and perhaps using as a reference rather than a cover to cover read (although, typically, I always read cover to cover, even reference works – no knowledge is wasted). I found it a useful, if intense, work.
Science of Flexibility can be purchased on Amazon, and using this link, Yinspire earns a referral commission.
http://amzn.to/2zU2cis