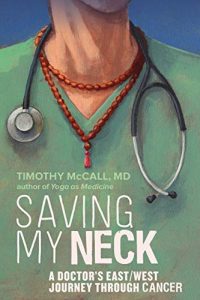 Dr McCall is well known in Yoga and Yoga Therapy circles having written one of the seminal works on Therapeutic Yoga and coming from a background of being a medical doctor before moving into yoga.  He is a regular writer and lecturer in the US and UK.
Cancer, however, is no respector of background or writing, and he found himself with a cancer in his neck.  This book is his reflection on treatment from an East / West perspective.  West – radiation, chemotherapy; East – ayurveda, yoga and lifestyle.
We read of his sense of being swept up by the medical system and not always being consulted about the treatment plans, and his sense of frustration with this.  Yet he knows this treatment will be life saving and is not optional.  He probes some of the assumptions about his treatment with varying degrees of success, and its sobering to learn that even a doctor feels somewhat out of control in these circumstances.
And then we also read of how he prepared for his treatment and recovered from it with a mixture of ayurvedic and yogic practice, and the techniques he used to keep himself healthy during his treatment and to prevent side effects, and how this has all contributed to his recovery.  We also read of some of the family and social aspects of his treatment, and how it effected family relationships – not unsurprisingly there is a little introspection here.
Obviously Dr McCall was well placed to see both the Eastern and Western aspects of his treatment, and this book helps demonstrate the bigger picture.  We know that Therapeutic Yoga can help with tolerating Cancer Treatments and with subsequent recovery, but rightly nobody should be claiming that Yoga or similar treatments can cure or prevent cancer – not only is there no evidence to this effect, but simply it is illegal (Cancer Act 1939).
For anyone interested in Mind Body medicine, this book is a useful read – Yoga Teachers, Yoga Therapists, other therapists.  It may be a useful read for anyone facing cancer treatment, or recovering from it, but with the caveat it is one persons account of their route and not a how to manual.