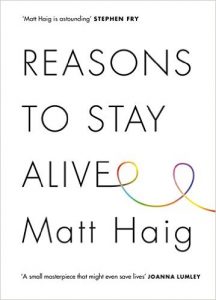 This is a shortish chronicle of the authors experience with depression; not the low level low mood type, the full fat knock you sideways type, combined with anxiety, loss of self confidence and an almost complete shut down.
The title comes from his conversation with himself on a cliff edge – jump or turn back. He turned back. The book chronicles what got him there, why he turned back, and a path to healing.
But it's no autobiography of a depressive, no text book. Perhaps it's best described as a series of short writings, vignettes, about depression and its effects, narrated through the perspective of the authors experience. Sometimes prose, sometimes lists, sometimes dialogue, sometimes raw, occasionally funny, always seeming to be authentic.
"Depression looks different to everyone. Pain is felt in different ways, to different degrees, and provokes different responses…. …There is no right or wrong way to have depression, or to have a panic attack, or to feel suicidal. These things just are. Misery, like yoga, is not a competitive sport. But I have found over the years that by reading about other people have suffered, survived and overcome despair I have felt comforted. It has given me hope. I hope this book can do the same"
Something that resonated particularly with me was the authors experience of the need to slow down; low level depression and anxiety have been an occasional feature in my life, and slowing down, giving myself space, self care, is probably one of the most reliable antidotes to this. The author suggests the same from his experience.
I liked his description of yoga as well, "I was a yogaphobe, but now am a convert. It's great because unlike other therapies, it treats the mind and the body as part of the same whole" – perhaps one of my greatest aches is when I see something masquerading as yoga that doesn't have that implicit gentleness of spirit to it; which is not to say that a sweaty heard yoga practice is inherently wrong compared to a slower gentle one, but when respect of the mind body spirit axis is removed and yoga reduced to exercise something is lost.
In summary a very readable little book; maybe for those curious about chronic depression, maybe for those with a friend of family member stuck in the mire, maybe for those who have tiptoed around its edges.
Worth a read.
It can be purchased on Amazon, and if you use this link, Yinspire earns a small commission.