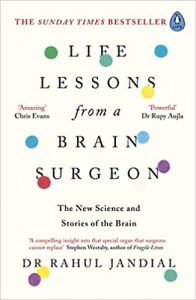 The New Science and Stories of the Brain
Medical Memoirs are a popular genre these days; this book takes a slightly different tack as the author, the eponymous brain surgeon, discusses not only his career and abstract memoirs, but what he has learned along the way, and practical things he wants to pass on.
He structures this sharing of experience around highlighted sections called "Neuro Busted" – dispelling myths, "Neuro Geek", with more detail on areas for those interested, and "Neuro Gym" with practical action points for brain health.  Its a nice angle on writing that can otherwise come across in this genre as more autobiographical and anecdotal.  His writing is practical and down to earth, and for anyone interested in how we use our brains, indeed well-being in general, this is a interesting and useful read from which you will probably learn – its not a manual on neuroanatomy or psychological health though, which is fine there are plenty of those around.  However fair warning – there are some graphic descriptions of brain surgery within, so probably not for the feint hearted.
In all I enjoyed this book, despite its 220 close set pages it was a quick and absorbing read.