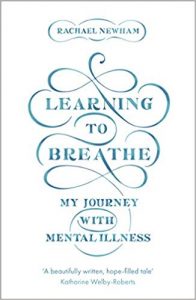 The books subtitle is "My journey with Mental Illness", and it's a short, but blunt, memoir of depression, self harm, eating disorder and suicide attempts by the then teenage author now in her 20s.
Initially I was a bit cautious of the book, as the introduction brings a strong Christian theme to it. Interesting: although my Christian faith is as strong as ever it was, it veers away from organised religion and finds solace in the church of fresh air and nature. However the author doesn't get drawn in to the sometimes saccharine nature of Christian thought and, indeed, comes across as critical at times. The school of hard knocks. I can relate to that. I admire her honest and critical writing.
However the book is not a tale of loosing faith, nor a spiritual "how to combat depression in easy steps" manual. Neither is it a manual on mental health treatment and diagnosis, nor a treatise on why depression happens. It is a memoir and a reflection on healing. And whether you are Christian, Muslim, Jewish, or faith, not of faith, unsure maybe, it's a book that anyone fighting their own battles can identify with. No, your journey is not the same; the battle, with the same unseen enemy is, however, a common one.
For anyone struggling with mental health; for anyone caring for someone struggling with mental health; for anyone in the helping professions looking for a clients perspective (and the author is quite open about criticising as well as praising the professionals who came in and out of her life) – this is a book for you.
The sign of a good book is at the end of it I have several pages turned over to comment on in a review. The sign of a very good book is that those ad hoc quotes simply couldn't do it justice. This is in the latter category.
A readable book, and one which I would recommend.
Learning to Breath can be bought on Amazon, and using this link enables Yinspire to earn a small referral commission