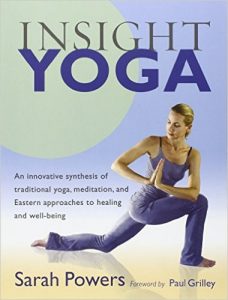 This is one of the very first books on Yin Yoga, written in 2008, and Sarah herself was one of the very early Yin Yoga teachers in the US.
Confession time – I re-read this book for the third of fourth time recently, thats in a time period of about four years. With the first readings, whilst I enjoyed it, there wasn't an immediate connection.
This changed a few weeks ago, and why I ended up giving the book another read, when I had the chance to attend a weekend of workshops in London that Sarah was leading. Every teacher has their own approach to teaching yoga, and practising with her in person brought her insights off of the page and into life. I found it an engaging and useful weekend, hence back into the book again!
The book isn't as technical as some of the writings on Yin Yoga – say Paul Grilley or Bernie Clark- but thats no bad thing. Those books have their place, but sometimes the technical content gets in the way of feeling the practice. This book focuses more on the practical, and in particular the meridian system and how through Yin Yoga we can use the meridian system – the esoteric energy channels of Chinese medicine – to influence our health and wellbeing.
As well as Yin Yoga postures being explained, there is a selection of Yang Postures as well, and suggested routines in both Yin Yoga and Yin/Yang Yoga. There are also chapters on Mindfulness, Pranayama (breathing) and Buddhist Dharma.
So its a book I would recommend, both in its own right, and for its ability to illuminate and support the authors practical teaching if you ever had a chance to experience it.
The book can be bought on Amazon via this link