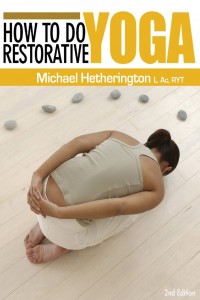 Any book which includes a cup of herbal tea nearby in its recommended list of props, doesn't have to work that hard to be a winner for me!  Theres always a cuppa beside me during morning practice and, quelle horreur, sometimes a glass of wine in the evening.
Even without this most pleasing starter, this book would have won me over anyway.  Simple, accessible and inspirational writing on a slower practice, and economical as well at 85 pages – blessed relief compared to a couple of 500 page monsters on my current reading pile.
A question that sometimes comes up is whether Restorative Yoga and Yin Yoga are the same?  I think the best answer to that is it depends on intention and how they are taught or practised.  My experience is a Yin style of Yoga can be taught "with an edge" or on a more restorative basis, and this book very much takes that latter line with the author writing, "in the last few years I have been focusing on teaching "yin" style yoga forms, like restorative, gentle, beginners, yin yoga, yoga nidra and Buddhist and yogic meditation in studios… …To further promote, encourage and cultivate the practice of "yin" style yoga I've written this book"
Theres a very short introduction to the topic, and some thoughts about fundamentals and props, but the mainstay of the book is a break down of 14 gentle postures, a selection of sequences and a selection meditation and mindfulness practices.  The postures are shown with suggested props, and possible modifications – very usable and accessible.
Its an inspirational little book, ideal for someone wanting to practice at home, or a teacher looking for some inspiration.  I'll be keeping it by my mat to dip into.
Needless to say, its a book I would wholeheartedly recommend.