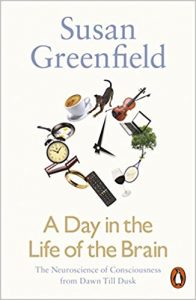 I know – another book on neuroscience and the brain. Anyone would think I was obsessed! I do read other things as well, but its the highlights that make it here.
Anything by by Baroness Greenfield is likely to be a highlight, as she is arguably one of the best known scientists currently working in the field of neuroscience and has written several books – I reviewed another work of hers last year.
In this book the author tries to bridge the difficult chasm between the brain and the mind; between the workings of the nervous system and our experience of conciousness. Its a big topic – she starts her book with us waking up with our morning alarm clock and moving between being alive but not concious – asleep – and our being alive and concious – awake.
Inevitably its more complex than that. How do we move between the two states. Whats actually happening when we are not conscious. Whats happening when we are concious. What is conciousness?
These are big questions and in many respects as much philosophical as scientific, although unlike some writers the author sticks to the scientific rather than postulating further. Hence this book may be considered as more about brain conciousness than mind conciousness.
Some of the content is postulation rather than fact – like so much in neuroscience we are still learning – but the author writes well.
The format of the book is to the follow the brain around a typical day, looking at the inputs and stimulation we receive, how that is processed, and how we come to build our unique outlook on the world.
Unsurprisingly it was a book I enjoyed, and one I would recommend to others interested in this field. Its an easy read and the science is practical, getting the balance right between ideas, theories and detail.
The book can be purchased on Amazon via this link, which earns Yinspire a small commission