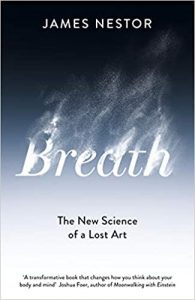 Most yoga classes have attention to the breath at the fore – maybe starting with breath observation, moving to a breathing exercise, then using the breath as an anchor in poses, before returning to observing the breath in final relaxation. And for good reason as the breath is a powerful tool, linking conscious mind activity and background autonomic activity, and linked closely with the vital life force of yoga philosophies, Prana.
The author is a journalist who came to a breathing class on the advice of his doctor, to "help strengthen my failing lungs, calm my frazzled mind, maybe give me perspective". Well, a round of applause to the doctor, but anyone grounded in yoga traditions will hardly be surprised!
The book then recounts the authors experience with his own breathing, breathing classes and techniques and some rather gruesome, but interesting, experiments he participated in around mouth breathing v nasal breathing, involving having his nose blocked for 10 days (really!).
It's an interesting book, and an interesting personal journey, but there is no new science, and no lost art. The science has been there for ages, the art never died – you just needed to know where to look for it. And, of course, it's good the author found it – everyone deserves to.
I'm not saying it's a bad book but there are better out there. For someone interested in the breath you may learn a few new bits, for a newcomer who is wary of yoga culture then maybe it may be a inroad. But overall I found it a little underwhelming as a work.
You can buy Breath: The New Science of a Lost Art on Amazon, and if you use this link, Yinspire earns a small commission