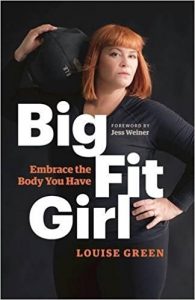 So, anyone who has practised with me will know I'm not blessed with a stereotypical yoga teachers body. Basically, although I'm not happy about it, I'm at the top end of overweight and one protein shake away from obese, despite being a regular walker/cycler/gym bunny/yogini, and despite a sensible diet.
Weight and body shape are complex issues and the world takes no prisoners, especially in the world of fitness. The average woman in the UK is size 16, yet two fitness brands serving UK women don't go above a sixteen – step up Sweaty Betty and Lulelemon – you can't help sometimes getting the feeling that the larger lady isn't meant to be seen in a yoga class or gym?
The sub title of this book is "Embrace the Body You Have", and aims to encourage women into fitness regardless of body size and shape.
Its not "how to" manual on exercise or diet, and is certainly not a book about obtaining a "bikini body" (what is one of those, anyway?); its about confronting the stereotypes; getting the motivation; and the practicalities. Whether your interest is running, cycling, gym, yoga, the book is a down to earth guide on doing these with a larger body.
On one level theres nothing earth shattering in the book. On another level it brings together a lot of sensible material in an accessible format, and could equally serve as a motivator for those of us feeling a bit cowed by the images of skinny birds in the media, a kick starter for those scared to step up and have a go with a non stereotypical body, or as something for professionals in wellbeing and fitness to read and understand some of the issues a larger body faces.
I found it a useful book, and worth a read. If you buy from Amazon with this link, Yinspire earns a few pence (if you reading this on social media, click through for the link).