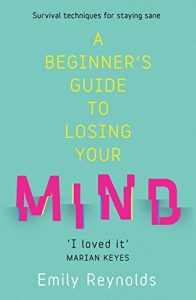 'My road to staying sane, and how to navigate yours"
The taboo around Mental Health, and talking about it, has thankfully receded to a degree that allows books like this to be published. And valuable writing it is.
The author gives her account of personal experience with Bi Polar Depression, through the initial symptoms; the struggle toward a diagnosis; the practicalities of life; coping. It's partly a self help for others with Mental Health problems, partly a guide for those in their lives. Chapters cover topics as diverse as diagnosis, self care, dating and sex, self harm, family and treatment.
The writing is from the heart, that's for sure, and eminently practical as well as gritty. I found it useful to read the patients perspective, so often one that gets overlooked and appropriated by the carers, clinicians and professionals.
A useful book, not too long or complex, and a recommended read for anyone in the helping professions, or anyone interested in the practicalities of mental health from the patients perspective.
You can buy the book on Amazon, and if you use this link, Yinspire earn a small commission
https://amzn.to/2LcXtQp