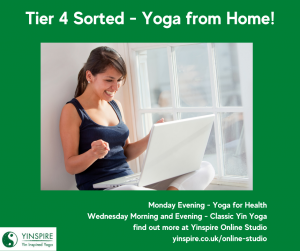 Well, Tier 4 isn't an ideal end to 2020, now is it?  But we are alive, and safe.
I relaunching my Online Studio for 2021, offering three classes a week:
Monday 7pm – Yoga for Health – a mixture of Hatha Yoga and Yin Yoga, for Physical and Psychological Health
Wednesday 10am and 6:30pm – Yin Yoga – a classic Yin Yoga class for grounding and relaxation
I'm trying a slightly shorter format for 2021, so each class will last around 60 minutes or just over, 75 minutes max.
If you have an existing Online Subscription this rolls over to the Wednesday classes.  Let me know if you want to join the Monday class, there is no extra charge!
If you had a in studio subscription with me, then this has been paused.  Let me know if you would like an Online Subscription and which classes – the online subscriptions are £20/m unlimited classes, so you could join all three.  I know its not the same as being in the studio, but why not give it a try?  If you attend yoga regularly with me, then zoom lets you continue getting the benefit of the class.
If you are new to practising with me, then you can book single sessions at £6 each, or take out an unlimited monthly subscription at £20.
All classes are via Zoom, and are suitable for newbies, improvers and more seasoned yogis.
For information and booking, see my online studio page