Yoga Equipment

Stock Items at the Studio
Although primarily a studio and teaching business rather than a retailer, the Rowborough studio carries a stock of equipment and books for sale.
All items can be purchased  in class or by contacting the studio for collection when convenient – including out of hours by arrangement or click n collect.
You can pay in class, or submit an order and pay online for collection
Yoga Mat £20
Gives you the comfort of your own mat for class or home.
This is a Yoga matters basic mat, 4.5m thick. 
Some people may like to use two (I used to!).

 
Yoga Block (foam) £6
 
Yoga Brick (foam) – £14 for two
 
Egg Shaped Block – £20 for 2
For supporting knees and hips in seated postures
Yoga Wedge (foam) £7
For sitting bones and wrists
 
Yoga Strap £6
 
Yoga Bag £15
A really useful bag to fit all your kit in
Bolster £38
Choose from Round Buckwheat, or Foam in Round or Flat
A flat bolster is kinder to smaller frames or stiff backs.
(tip, most of the studio bolsters are round foam or flat
Speak to Jessica or your teacher if you are not sure which is best for you)

Replacement Bolster Covers – £10

Eye Pillow £5
Spiky Ball £4
For foot and hand mobilisation, and self massage

Fleece Blanket £25
For cushioning and warmth during practice, and snuggling during Savasna

Cork Brick x 2 £20
A firmer brick for more support.  Slightly larger than the foam brick above.
Most items are from YogaMatters, as used in the studio, or other reputable and equivalent yoga wholesalers. They are, of course, new and normally in manufacturers wrapping. 
If you want a special colour or order, then check YogaMatters website and let Jessica know – we can usually order in with no carriage cost.  We sell at RRP.
 
 
Yoga Kits
Kit 1 £50 – Mat, Block, Bolster – kit price £50 against £64 for individual items
Kit 1 is the minimum you need in one of Jessica's classes
Kit 2 £85 – Mat, Block, 2 Bricks, Bolster, Strap, Blanket – kit price £85 against £109 for individual items
I can swap the bricks for Cork or Egg on paying difference £6
You can pay in class, or submit an order and pay online for collection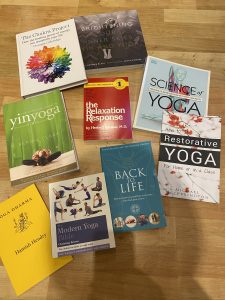 Books
There is a carefully curated selection of books to supplement your Yoga Practice. 
You can buy them all on Amazon, and probably cheaper, but please buy from Yinspire and support local if you can.
Second Hand Stock
There is a limited amount of used stock available,
mats – purple – £10 – two for extra comfort may be a good idea
foam bricks – purple – £7/pair
foam blocks – purple – £3 (it's useful to have 2 or 3)
egg shaped bricks – purple – £10/pair
cork blocks – natural – £10/pair
round bolsters – purple – £19
flat bolsters – purple – £19 Sold Out
straps – white – £6
fleece blankets – purple – for warmth £13
white thick cotton blankets – for support or put over a mat – £12
Please email or speak to Jessica in class about availability