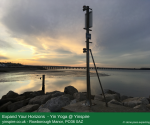 I'm making a slight change to my class timetable this summer, with Wednesday evenings becoming Therapeutic Yin Yoga
This means my schedule is:
Mondays – 19:00 to 20:30 – Yin Inspired Yoga (blended class)
Wednesdays – 09:30 to 11:00 – Restorative Yin Inspired Yoga (in person only)
Wednesdays – 18:30 to 20:00 – Yin Inspired Therapeutic Yoga (blended class)
As always, all classes are suitable for beginners, and all classes can accommodate injuries and restriction.  Don't be worried about choosing between the classes, they all come from the same foundation and the differences, although important, are not significant.
The change to Wednesday evenings and the new Therapeutic Yin Yoga class reflects a desire on my part to integrate Yoga Therapy into class settings, and cuts to the heart of what Yoga is about as a process of personal insight, change and healing. 
By its nature all Yoga is therapeutic, but not all Yoga Teachers teach therapeutically – not surprising when people come from different directions and backgrounds.  Its a case of "its not what you do, its how you do it".  As many of you will know my Yoga journey includes specific – and through – training as a Yoga Therapist.
So this class will be ideal for stress, anxiety, back issues, and other health concerns physical or emotional.  Of course I accommodate these issues in all my classes where necessary.
Classes are £10 dropin, with the option of saving through a class pass – book via my website.
I hope to see you soon on the mat.