Studios
Yinspire has two dedicated studios in the Brading area, Brading Town Centre and Rowborough.
The studios are only open when classes are on – please do not call or visit without appointment.
The Rowborough Studio is now open following the Coronavirus disruption, for Group Classes, Private Classes and Yoga Therapy.
The Brading Town Centre studio is closed for classes indefinitely, and will not reopen in the foreseeable future – however Private Classes and Yoga Therapy can still be booked.
Map and Rowborough parking plan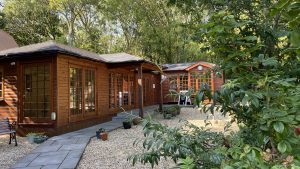 A purpose converted studio in a delightful rural setting, overlooking woodland and lawn in the grounds of a private house, Rowborough Manor.  During Social Distancing the studio has a capacity of 10, making it safe for everyone.
For directions and full details see Yinspire Rowborough
Retail – Books and Yoga Equipment
The Rowborough studio carries a stock of books and yoga equipment – mats, bolsters, blocks, and other props – see the list here
Make a payment for equipment or books collected in class

About Yoga
Learn more about
Yinspire and Jessica (principal of Yinspire)

Studio Hire
Studio Availability and Payment
At present I am not accepting new hires as the studios are running at capacity.
Area Plan