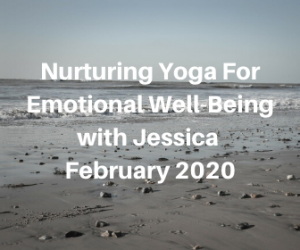 Stress, depression and anxiety can hold you back from living your best life, cramping your confidence and filling your mind with fears that distract you from your innate powers
Your body contains the power to break free from these mind-forged manacles, and Yoga Therapy can guide you toward this release
Learn how to transcend negative thought patterns and re-engage with the bright reserves of positivity you carry within you on this Four Week Yoga Therapy Course for Stress, Anxiety or Depression
Course Content: The courses will adopt a nurturing and accessible approach to Yoga, based around a blend of physical practices from the Yin Yoga, Restorative Yoga and Hatha Yoga traditions, combined with Pranayama (breathing/energy exercises) and Mindfulness, all focused on Emotional Well-Being.
The course combines specific yoga therapy techniques with research from the fields of psychotherapy and neuroscience to:
Enhance the functioning of the nervous system to improve well-being
Improve self-awareness through the practice of mindfulness
Promote the support of others by eliminating habitual patterns of thought and behaviour.
Both mindfulness and therapeutic yoga are well known to help improve stress, anxiety and depression, this yoga therapy course will help you access these profound healing properties.
All sessions are taught in a compassionate and safe setting.
Suitable For: Anyone who is facing Stress, Anxiety and Depression. You do not need to have Yoga experience, however you do need an open mind. Adaptations are available for injuries and health issues, but you need to be able to move to and from the floor for the yoga practice.
The physical yoga practice will not be a strong one; if you are looking for a stronger exercise type approach, then these sessions won't be right for you.
When: Four weeks, starting Thursday 6 February 2020, 6:30 pm for 90 minutes, through Thursday 27 February 2020.
Where: Yinspire Rowborough – a comfortable private studio in the grounds of a private home between Brading and Ryde
Price: £50 for the four weeks. Early bird of £40 for bookings before January 7 2020. To claim the early bird pricing, enter coupon code "Emotions2020" at checkout.
Your Tutor: Jessica Garbett, who is an experienced Yoga Teacher and CNHC Accredited Yoga Therapist (Minded Institute London, Yoga Therapy for Mental Health)
Queries and Contact: Visit our contact page
Terms:
The course fee is £50 payable at booking- early bird £40 before 7 January 2020, see voucher code above
If you would struggle to pay on booking, then I will happily discuss a phased payment plan
Cancellations allowed with £10 administration fee up to four weeks before start date, otherwise full course fee due. A later cancellation will only be allowed if your space can be filled
Once the course starts there are no cancellation provisions and the full course fee is due even if you do not complete the course
Booking: Booking is online and can be accessed below. If you cannot book and pay online for any reason, do get in touch for assistance.
[scheduling site="https://app.acuityscheduling.com/schedule.php?owner=16288872&appointmentType=11780768″]