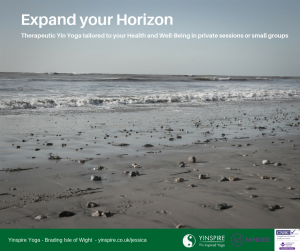 New Year, Time for Changes.
If your 2020 intention is to devote more attention to self care, yoga can help. Here are some offerings from Jessica this January:
BEGINNERS YOGA COURSE
4 weeks from 7 January 2020 – Tuesdays 5pm.
A nurturing and accessible yoga course, for beginners and returners – ideal for emotional and physical balance
Details and Booking
NURTURING YOGA FOR EMOTIONAL WELL BEING COURSE
4 weeks from 6 February 2020 – Thursdays 6:30pm
Suitable for anyone facing stress, anxiety, depression, or similar
Details and booking
PRIVATE YOGA THERAPY SESSIONS
Private sessions tailored to your needs with an experienced Yoga Therapist
https://www.isleofwightyogatherapy.co.uk/
Jessica is a Yoga Teacher, specialising in Yin Yoga, and a Yoga Therapist with specialist accreditation in Yoga Therapy for Mental Heath.