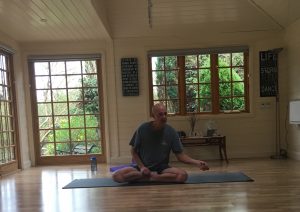 Many Yogis have been asking about Peters new Wednesday evening class. Here are the details in his own words:
Starting Wednesday 3rd July 6.30 -8.00pm. A general Hatha Yoga class with an emphasis on finding spinal movement informed by my own personal experience.


The Yoga class will be about losing tension in the body, finding free flowing movement, core support, balance, breath to inform movement: in short about finding steadiness and ease and flow in your body through your yoga practice.


This is a Yoga class in which I ask you to have a sensory experience in and of the body rather than one where you are asked to aspire to an idealised posture/shape/asana although that doesn't mean I won't throw in some challenging stuff along the way!


My occasional Saturday morning classes are 2 hours and go a bit slower and deeper and on occasion if six people can be brought together I do 4 hour workshops on Saturday afternoons to explore the Yoga yet more deeply.
Peter has also released some new Saturday morning dates – currently booked for the remander of 2019: 29 June, 13 July, 27 July, August 10, October 26, November 30, December 7
To book contact Peter: