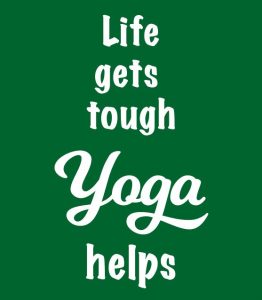 January – Being Flexible – Sore Backs, Achy Knees, Stressed Lives, Anxious Minds
There is an old joke goes something like this:
– "I'd like to start yoga"
– "How flexible are you?"
– "I can't do Tuesdays or Fridays"
Of course, anyone who practices yoga regularly will know that we come to our yoga mats not because we are flexible – well maybe we are – but to deal with a myriad of things; sore backs, achy knees, stressed lives, anxious minds.  Whether you can touch your toes is irrelevant, compared to what you experience trying.
Part of this flexibility is around how we practice yoga, which leads me into Coronavirus, streamed classes, in person classes, etc.
I had to cancel in person classes for the first two weeks of January due to my catching Covid.  I'm now back teaching in person from this week, providing a late start to the year.
I know that many people are worried about Covid still – for themselves, for their families, for their social groups.  Others don't like coming out on dark nights.  For those of you who appreciate it, I am continuing to offer streamed classes on a Monday and Wednesday evening. 
Equally I know that many of you don't like online classes and want to practice in person.  For that reason, after my own Covid hiccup, I am back teaching in person again – Monday evening and Wednesday morning and evening.
So if you seek a Yoga class suitable for backs, knees, hips, worries and anxieties, then I invite you to join me this January in person in the studio, or from the comfort of your own home.
All booking information is at  – www.yinspire.co.uk/yoga/studio-classes-with-jessica/