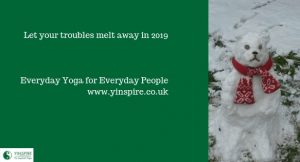 I hope you had a good Christmas and New Year, however celebrated.
Now its the time to look ahead to a New Year and new opportunities.
Yoga has the concept of Sankalpa – intent – and this is most relevant as the year starts. Rather than the harshness of a resolution to do something, the unrelenting media message this time of year, the intent behind Sankalpa is a softer more compassionate aim of moving toward something.
Less about strife, grasping or setting yourself up for disappointment, more about and intention to softly move towards change for the better.
Whatever your intent – Sankalpa – for this year ahead, hopefully Yoga is part of it. Below are a few suggestions for you.
My regular classes restart from 7th/8th January, and other classes are restarting from this week (check with your teacher if you are unsure)
With blessings for 2019, and I hope to see you on a mat.
Jessica
2019 Yoga Courses
In January there are three Yoga courses starting at Yinspire, with something for everyone from those looking to start yoga or return from a break away – Emma's course will be great for that – to those wishing to work with stress and a need to relax. If you've set an intention to be more healthy in 2019, then yoga can be a great part of that, both as a practice in its own right, or has a compliment to gym, cycling, running, or whatever.
Jessica is running "Breathe Yin"
A four week course for well-being and helping develop resilience to stress, based around Yin Yoga, Restorative Yoga and Pranayama (Yoga breathing exercises). You can choose between a Wednesday evening or Friday morning class, starting 9th or 11th January. £40 for the four week course. Bookings here
Emma is running a Wednesday evening Beginners Yoga course
There is a taster evening on Wednesday 9 January, and then the six week course starts 23 January. In Emmas own words "… for anyone wanting to try yoga, suitable for those wanting to learn more about this beautiful practice and any curious minds! I will take you through the basic teachings in yoga incorporating mindfulness and breathing techniques throughout your practice." Get in touch with Emma to book or see the Facebook event
Anne is running " Mindfulness to relax and unwind"
Thursday evenings 24 January to 14 February – Get in touch with Anne to book or see the Facebook event
2019 Workshops, Retreats and Events
Throughout 2019 there are workshops and events. Here are a few to get you going.
Jessica's workshops start in February
Wednesday 13 February 2019 – Developing a Home Practice
Wednesday 20 March 2019 – Sitting and Doing Nothing – Developing Your Meditation Practice One Breath at a Time
Wednesday 3 April 2019 – Healthy Hips and Sublime Spines
Wednesday 22 May 2019 – Tackling Stress with Yoga
Details and booking
New Years Wellness Day Retreat with Amber and Emma
Sunday 20 January – Yoga, delicious nutritious lunch, sound bath – whats not to like? Details
Saturday Mornings throughout the year with Peter, Della and Lisa
Della's Saturday class Schedule – 6 January, 30 March, 1 June, 7 September, 2 November
Peter's Saturday class Schedule – various dates
Lisa's Saturday and Sunday class schedule – Saturdays 23 February, 25 May and Sunday 24 March
Zen Buddhist Meditation with Anne – Sundays 13 January and 10 February – Details
Mindfulness for Breast Cancer with Anne – Wednesday mornings 16 January 2019, 6 February 2019, 6 March 2019 – Details
Pure Yin with Jessica – Saturday Mornings
Jessica's ever popular Saturday morning classes continue in 2019, on the following dates:
12 January, 9 February, 9 March, 13 April, 12 October, 9 November, 21 December
Early booking is advised as these classes do get busy – classes are £10 cash (must be booked in advance please), Class passes valid, and class subscribers can swap into this class or book it as an additional class with 20% discount.
Arrive early, and now we have a small kitchen at Rowborough, make yourself a cup of herbal tea which you are welcome to take to your mat, with care.
2019 Regular Schedule
The 2019 Regular Schedule remains unchanged. Every class should be beginner friendly
– Yin with Jessica – Monday evening, Tuesday morning, Tuesday evening (£5 taster for new students)
– Mindful Vinyasa with Amber – Tuesday and Thursday evenings
– Power Yoga for All with Emma – Wednesday evenings
– Gentle Yoga and Yoga Nidra with Susan Thursday morning, followed by Chair Yoga
– Pilates with Penny – Friday mornings
– Saturdays and Sundays with Jessica, Peter, Anne, Della and Lisa