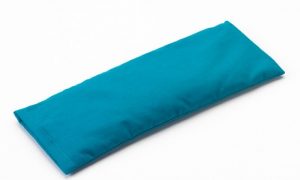 Following consultation in class this last week I am withdrawing the provision of Eye Pillows (aka Eye Bags).  This is partly due to Coronavirus, and partly due to longer term hygiene concerns on my part – I would never share an eye pillow, so why ask my students to?
The existing stock has been washed, bagged in resealable plastic bags, and are available for sale in the Rowborough studio for £2 – please pay myself or your teacher.
For Brading yogis, please let your teacher know if you would like an eye pillow.
Eye Pillows are an important part of practice.  Gentle pressure on our eyes helps us to relax and enter more quickly into a sympathetic state, and so whilst their use isn't mandatory, I do endorse them – I use my own daily during relaxation (pratyahara – withdrawal of the senses).
^Jess