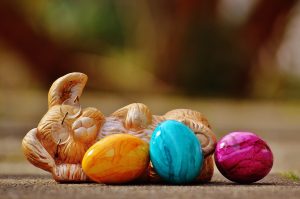 Happy Easter to everyone. Please remember that chocolate consumed over the Easter break, has no calorie content (still searching for a citation for that one, I'll keep looking, but I read it somewhere, I'm sure).
As far as I am aware all Yinspire classes are running as normal over Easter, including Penny with Pilates in Good Friday morning, and Peter with spines n space on Saturday morning.
The only exception to this is my (Jessica) classes on Monday 22 (5pm and 7pm) and Tuesday 23 April (6:30pm) which are having a break for a week. They will be back 29/30 April with Della covering until I return from medical leave, 13 May onward.
My knee is healing well, and I'm mobile, albeit stiff, sore and tired. I'm getting to know my new knee joint, and planning our life together, with gratitude to the surgeons, nursing staff, and all who are helping practically, therapeutically and energetically.
Happy Easter all
Jess