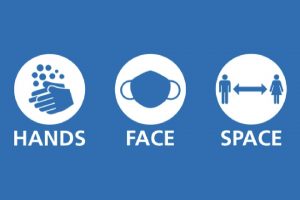 Updated Coronavirus Precautions at Yinspire – and a New Weekly Streamed Class
As many people will be aware, Face Coverings are being made compulsory in certain situations from the coming week (w/c 29th November 2021).
From the information available at present, this doesn't apply to the studio, only to shops and public transport, and hence Face Coverings are still optional in reception and when off your mat.  In my view given the size of the venue, and the short time people are in reception or off their mats, the risk factors are low, but as always reach your own conclusions are respect those of others.
As the Isle of Wight is running ahead of national infection levels, and we have a new, and potentially more transmissible variant, I am making a couple of changes from this coming week.
First, class sizes will be capped at 10 not 12.  This gives us a bit more space.  I am not returning to pre-set mat layouts and marked spaces, but please use space wisely.
Secondly, for those who feel more comfortable practising from home, I am reintroducing one streamed class a week. 
Details are:
Monday evenings 18:30, streamed from studio as part of the regular Monday night class
Pricing as for studio classes – i.e. £12 dropin, class passes as above, or £32/m subscription
Anyone with an existing class subscription is welcome to join the zoom class as an extra class at no cost, contact me for code
Existing studio classes, and bookings, continue unchanged – the streamed class is an extra option for those who would appreciate it.