Chair Yoga
I offer Chair Yoga for people with mobility worries, who struggle to sit on the floor, or want something less ambitious.
Chair Yoga is a seated Yoga, sometimes called Seated Exercise, however it differs from a pure seated exercise class as like all Yoga it addresses mind as well as body.
The classes may be suitable for people with conditions like ME, CFS, Hip or Knee replacements, stroke rehabilitation, and similar.
The classes run on Thursday 11:30am for 60 minutes, and will normally include:
Relaxation
Meditation or Mindfulness
Breathing exercises (Pranayama)
Adapted Yoga postures (Asana)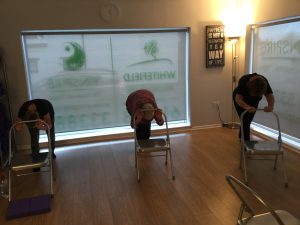 The postures will be chair based, and may cover:
Neck mobility
Shoulder mobility
Spinal awareness and movement
Toe, foot, ankle, knee and hip movement
Finger, wrist and elbow movement
Depending on group dynamics each class we may do some standing postures using the chair for support, eg balancing, and we will use props such as spiky balls and straps.
The classes are chair yoga rather than chair exercise, and as such reflect the mind body approach of Yoga, making them more rounded than pure seated exercise classes.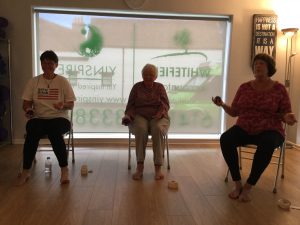 These classes should be suitable for all levels and abilities, and beginners are welcome.
The first class can be booked as a £5 taster. After that its £8/class or buy vouchers at £35 for 5 or £50 for 10, valid 12 months.
Chair Yoga can be booked here or email me