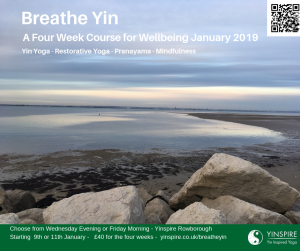 A four week course, running in January 2019, for wellbeing and helping develop resilience to stress, based around Yin Yoga, Restorative Yoga and Pranayama (Yoga breathing exercises).
When and Where?
Either Fridays 10am for 90 Minutes, 11, 18, 25 January and 1 February 2019
Or Wednesdays 6:30pm for 90 minutes,9, 16, 23, 30 January 2019 (both times are planned to run)
at Yinspire Rowbrough (off Beaper Shute, close to St Helens Traffic Lights and one mile from Tesco), a small yoga studio in a private rural location.
Your Investment £40 for six hours Yoga tuition.
Booking: Using the Link Below
The course is taught by Jessica Garbett, an experienced Yoga Teacher with specialist training in Yin Yoga and Therapeutic Yoga for Stress and Wellbeing. Jessica is currently completing studies in Yoga Therapy with Minded Institute London.
During the course we will work with:
Yin Yoga – a gentle form of physical yoga, less about achievement and more about being
Restorative Yoga – a deep relaxation for the body, especially the nervous system
Pranayama – Yoga Breathing – which can assist in promoting wellbeing and building resilience to stress
Mindfulness of body and breath
Course Aims are to:
Learn relaxation strategies through working with body and mind
Learn how the breath and help us regulate stress
Learn strategies for improving physical and emotional well-being
The course will be floor based, so participants should be able to sit on the floor, other than that most health issues can be accommodated.
No Yoga experience is required, but those with previous yoga experience are, of course, most welcome.
If you have questions about the course, including its content and your ability to participate, please contact Jessica by email
The course will be progressive, but missing a single week should not detract from your learning. You are welcome to swap into one of my other classes that week.
Jessica is an recognised CPD Provider for Yoga Alliance (US) and this course should qualify as CPD for members of Yoga Alliance, FRYOG and BWY.