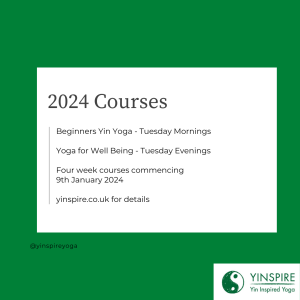 Four weeks starting Tuesday 9th January 2024 9:30am
This course provides an introduction to the basics of Yin Yoga, with some Restorative Yoga and Hatha Yoga included.   Don't worry if those terms don't mean much – it will be a slow, stretchy class, less about achievement, more about well-being.
The course is aimed at complete beginners, or returners to Yoga having done some in the past.
This is a floor based class.  Most health issues can be accommodated so long as you can get up and down from the floor comfortably.
Your investment is £50 for the four week course, covering 4 sessions of 75 minutes each.
The course is taught by Jessica Garbett, and experienced Yoga Teacher and Yoga Therapist.
Please see Terms of Business for Courses – please be aware the booking is noncancellable and non refundable.
Please see Details of the Location